Restaurant Olive Oil Bread Dip is easy to make at home! With just a few ingredients, you'll have the perfect dip for crusty bread.
When out at Italian restaurants, aside from the delicious pasta and wine, one of my favorite things is the olive oil dip that the server puts on the table. It's not just a plain olive oil. It's seasoned with herbs, garlic, salt and full of so much flavor.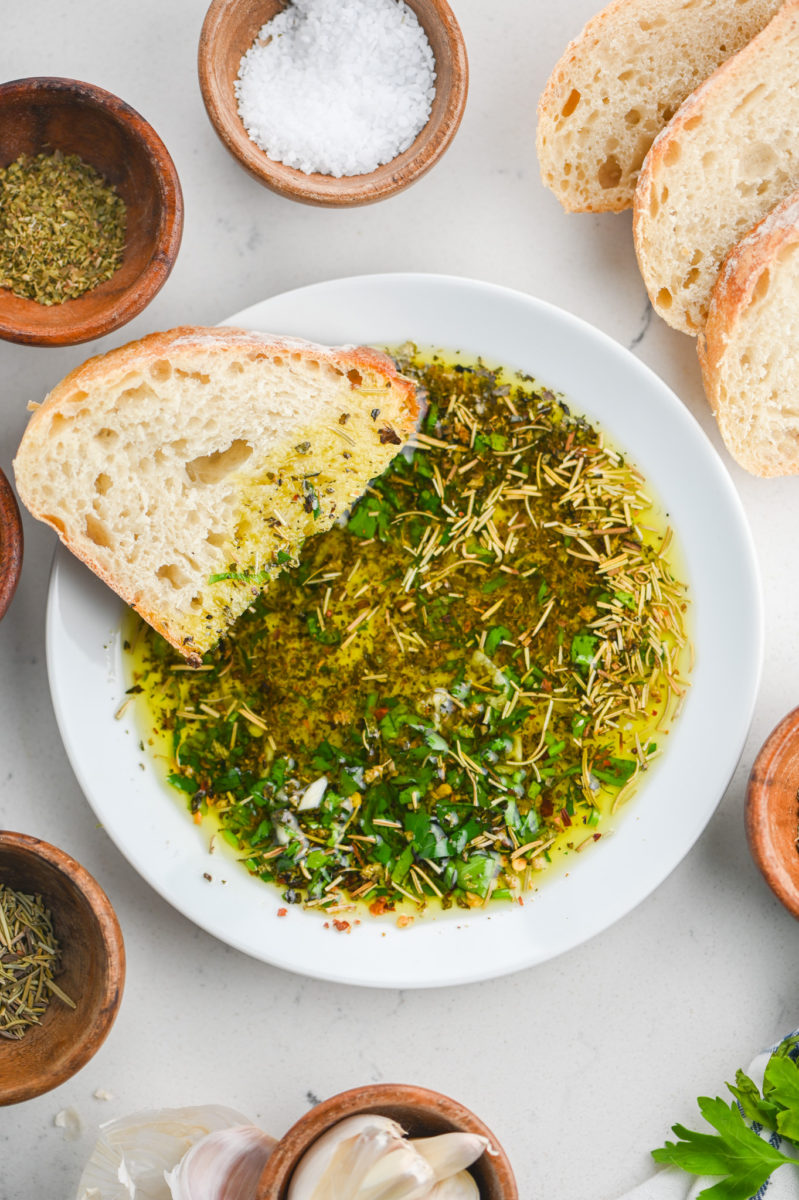 But you don't have to go to your favorite restaurant to enjoy it! I'm going to show you how to make Olive Oil Bread Dip today. It's so easy and you probably have all of the ingredients on hand to make it.
Let's talk about what you need to make it:
Olive Oil Bread Dip Ingredients: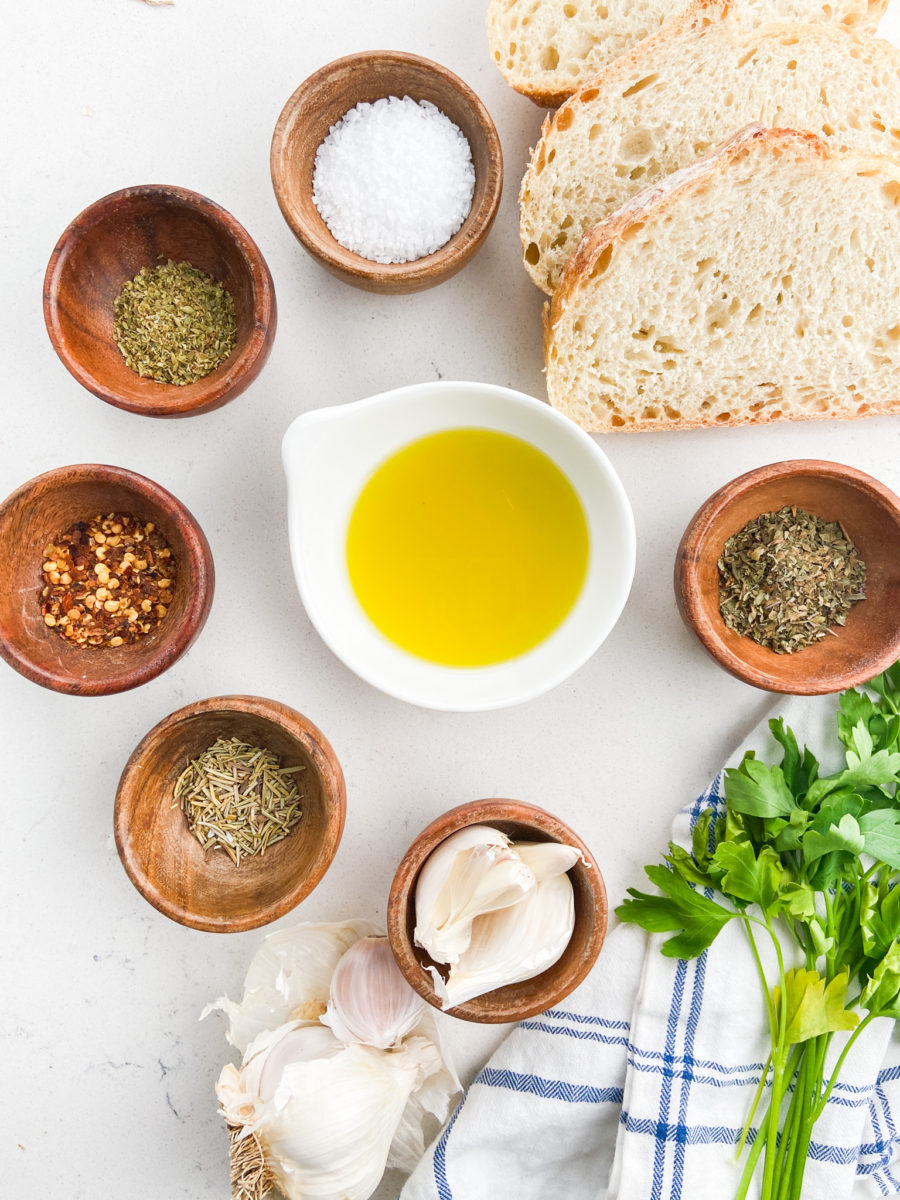 EXTRA VIRGIN OLIVE OIL: Ok friends, this is the star of the show here. You want to make sure you have a high quality extra virgin olive oil. It will taste the best.
GARLIC: One or two cloves of fresh garlic is perfect. You'll want to make sure to mince it fine so you don't scoop of big chunks of raw garlic with your bread.
DRIED OREGANO: oregano has a spicy pungent flavor and adds a peppery flavor to the dip.
CRUSHED RED PEPPER: Adds a subtle kick to the dip. If you're worried about it being too spicy, you can omit it or add only a pinch.
DRIED BASIL: Adds a sweet flavor.
DRIED ROSEMARY: Adds a woodsy aromatic flavor.
SALT: The salt will bring out the flavor of everything.
FRESH PARSLEY: Unlike the other herbs in this recipe, the parsley is fresh. This is because parsley is leafy and delicate making it one of those herbs that I prefer to use fresh most of the time.
Step by Step Photos and Instructions: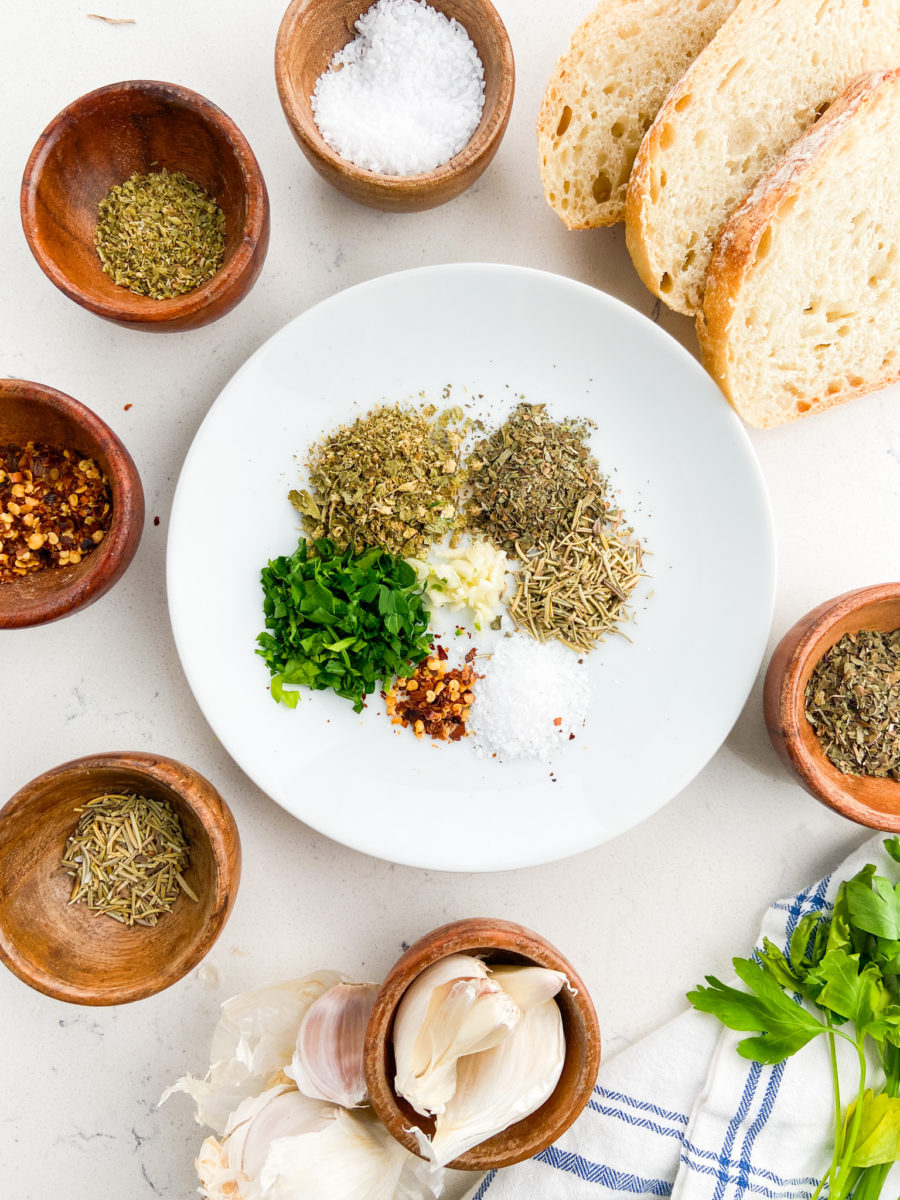 Alright guys. There is really not much to this at all. That is what makes it so great. If you're serving bread with your pasta and decide at the last minute that you want to add something a bit more, this dip is perfect for that.
I recommend putting all of the ingredients, except the olive oil, on a plate and pour the olive oil over the top.
And while this is delicious right away, if you give it 10 or so minutes for the flavors to start to meld, it will be even better.
I love soaking up this dip with some crusty french bread.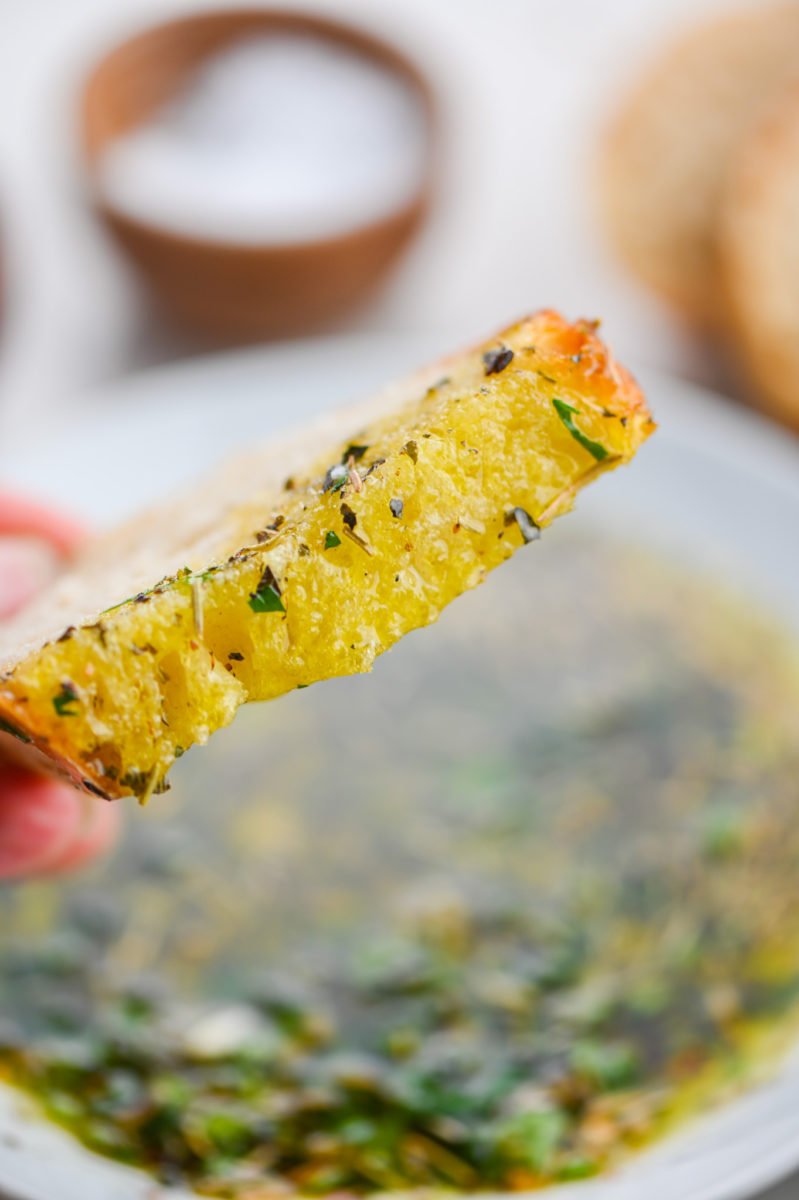 Storage and Leftovers:
Olive Oil Bread Dip is best when eaten the day it's made. The oil will coagulate in the refrigerator.
Recipe FAQ:
Which olive oil is best for dipping?
Extra Virgin Olive Oil is best for dipping and for use in dressings. This is because it is the least processed of the olive oil varieties so it has more flavor.
What kind of bread is good for dipping?
For best results, I recommend using a hearty, crusty bread like como, french or a crusty sourdough. Focaccia is also a great option!
Want a full Italian inspired meal to serve with your restaurant bread dip? Check out these recipes:
Spaghetti Carbonara is a classic Roman dish that is simple, rustic and oh so delicious.
Another classic Italian dish is Pasta Amatriciana. This tomato based pasta dish is full of flavor!
You can't go wrong with creamy Fettuccini Alfredo! This easy recipe is sure to be a crowd pleaser.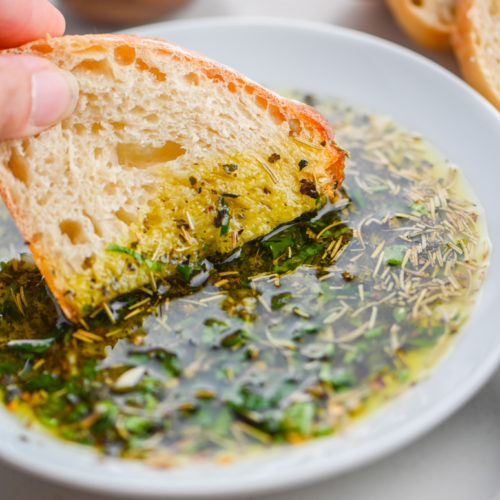 Olive Oil Bread Dip
Restaurant Olive Oil Bread Dip is easy to make at home! With just a few ingredients, you'll have the perfect dip for crusty bread.
Course Condiments
Cuisine Italian
Keyword Dip, extra virgin olive oil, Vegetarian
Servings 4
Calories 242kcal
1/2

cup

extra virgin olive oil

1

garlic clove

minced

1

teaspoon

dried oregano

1

teaspoon

dried basil

1/2

teaspoon

dried rosemary

1/4

teaspoon

crushed red pepper

1/2

teaspoon

salt

2

teaspoons

parsley

minced
Place all ingredients except olive oil on a plate or shallow bowl.

Pour olive oil over the top and gently stir together. Serve.
Nutrition information for estimation purposes only. 
Calories: 242kcal | Carbohydrates: 1g | Protein: 1g | Fat: 27g | Saturated Fat: 4g | Polyunsaturated Fat: 3g | Monounsaturated Fat: 20g | Sodium: 294mg | Potassium: 19mg | Fiber: 1g | Sugar: 1g | Vitamin A: 52IU | Vitamin C: 1mg | Calcium: 16mg | Iron: 1mg
The post Olive Oil Bread Dip appeared first on Life's Ambrosia.