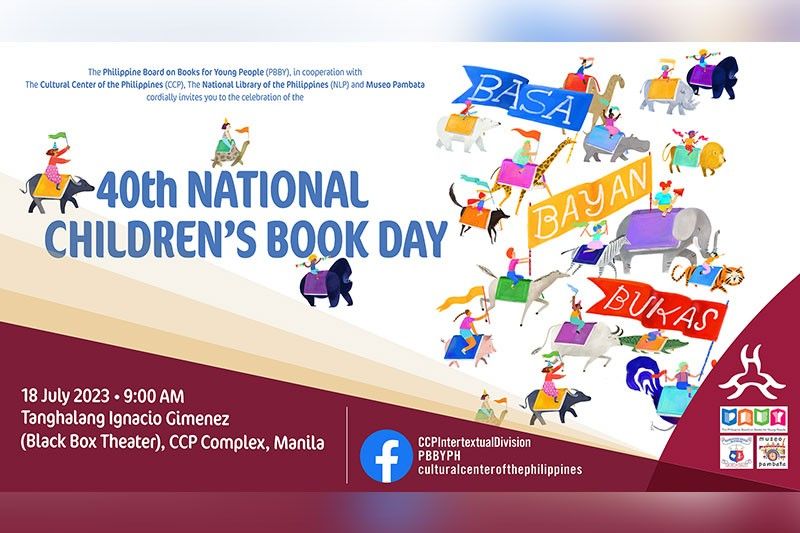 CAINTA, Philippines — This coming Tuesday, July 18, the Cultural Center of the Philippines (CCP), through its Intertextual Division and in partnership with the Philippine Board on Books for Young People (PBBY), celebrates National Children's Book Day.
The whole day celebration is marked with a series of book activities taking place at the Tanghalang Ignacio Gimenez (CCP Black Box Theater), from 9:00 a.m. to 3:00 p.m.
Now on its 40th year, National Children's Book Day is held every third Tuesday of July. It commemorates the anniversary of the publication of our National Hero Dr. Jose Rizal's rendition of the folktale "The Monkey and the Turtle," which was published in the July 1889 issue of Trubner's Oriental Record in London.
Working around the theme "Basa. Bayan. Bukas.," the program includes the presentation of new children's books, a keynote speech by Mighty Magulang/Mona Veluz, and musical performance by Kabataang Gitarista.
The much awaited awarding of the 2023 PBBY-Salanga and PBBY-Alcala Prizes also takes place during the event, after which there will be a story-telling session featuring the winning piece. This is a very important part of the program because the CCP and PBBY, besides championing the importance of nurturing the curiosity and imagination of young readers, also focus on recognizing the best work of children's book writers, illustrators, and publishers.
Other important activities on the 40th National Children's Book Day are the opening of an art exhibit, viewing of Himig Himbing videos from the CCP Arts Education Department, talks, art exhibit tour with artist Jomar Galutera, and additional story-telling with games.
The event is held in line with CCP's vision that "Art matters in the life of every Filipino" and its mission to be the leading institution for arts and culture in the Philippines by promoting artistic excellence and nurturing the broadest publics to participate in art making and art appreciation.
At the same time, participants are encouraged to bring any kind of children's books for donation. A book donation will serve as one person's entrance ticket to the event, and the collected books will be given to the Girl Scouts of the Philippines (GSP).
RELATED: What makes Jose Rizal extraordinarily smart? Ambeth Ocampo explains