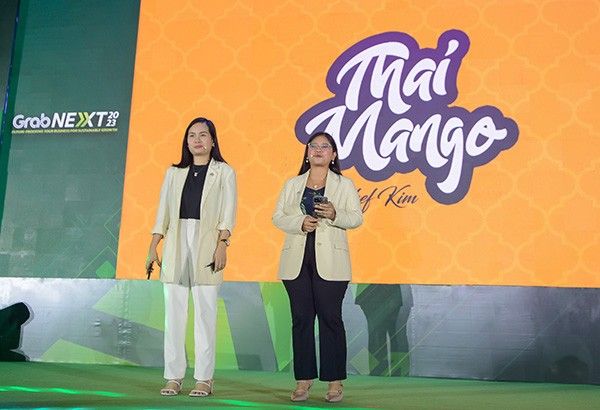 MANILA, Philippines — For sisters Kimberly Baquiano-Hita and Jashmine Baquiano-Rufo, their main concern back in 2017 was to be able to pay back the blender they bought via credit card.
They did not anticipate that their Thai shake business would grow into eight dine-in restaurants that serve popular Thai dishes seven years later. 
Kimberly and Jashmine are two of the four sisters who run Thai Mango. With just a table and a blender, the sisters joined bazaars selling Thai Mango shakes.
"Sa umpisa talagang mahirap po," said Jashmine to a select group of reporters at last June's Grab Next 2023 conference held in SM Aura Convention Center in Taguig City. 
Kimberly, who is also a chef, agreed. She shared how she and her sisters were hands-on, even carrying the appliances and equipment to bazaars. 
"Mga kaibigan naawa sa amin," said Kimberly. 
There was double pressure on her at that time because as she and sisters were trying to put up their business, she was also working as a chef in a five-star hotel. 
The sisters persevered, still joining several bazaars including the famous Mercato Centrale, where they were among the heavy contributors to foot traffic of the weekend food market held in Bonifacio Global City. 
"Goal lang namin noon ay mabayaran 'yung blender kasi inutang pa siya sa credit card," shared Kimberly. 
For OFW mother
There was a more pressing motive for the sisters, they revealed.
Apart from paying off their credit card bill from their purchase of the blender, they persevered with the business because they wanted their mother to finally come home for good to the Philippines. 
"The reason that we stayed in this business was because of my mom. Ang nanay po namin is 14 years sa abroad. Wala pong uwian. 'Yung OFW (overseas Filipino worker) po kasi uuwi lang siya 'pag may stable na income sa family," shared Jashmine. 
It came to a point that their mother noticed that her children were telling her that she did not need to send money back home. Kim, Jashmine and their two other sisters finally said to their mother that she can go home. 
To make her homecoming sweeter, their mother was able to come home for good in 2019, a year before the COVID-19 pandemic hit. 
Pandemic blues, success story
Kim and Jashmine's happiness is immeasurable, but they again had to face difficulties due to the pandemic. 
With the world at literal standstill and Metro Manila, in particular, put under varying degrees of quarantine for most of 2020 and 2021, the sisters had to find ways to keep their business afloat. 
It was not easy, they recall, as they came to a point that even their service van, an L300, was in the verge of being let go. 
Just like when they started, the sisters pooled their own skills and manned the kitchen themselves. 
They put up their own commissary, which was also where they lived, in Manila. Kim put her own expertise in the kitchen while her sisters helped with taking orders and operations. They were only able to retain one employee. 
"Actually nagulat kami kasi ang pandemic pala ang magiging way for us para lalo maging malaki," Kimberly said. 
"'Pag pasok po ni Grab, doon na kami nagkaroon ng chance to open pa to more cities… 'Di na kami nahirapan from rider to customer. Tedious part po 'yun. Since si Grab nag-focus sa kalahati ng trabaho, nag-focus kami sa operation at quality ng pagkain. Kaya expansion during pandemic, ang bilis," she added. 
It also inspired them to be confident to open their dine-in restaurants, not just a cloud kitchen with the help of their customers who got to know them through the popular superapp. 
From their initial Thai Mango shakes, they now have a full menu which Kimberly developed with her team. Her hotel experience and specialty in Asian dishes helped her create the menu and maintain the quality of their offerings. 
Apart from Thai Mango shake, their other bestsellers are Thai Avocado Shake, Pad Thai, Sticky Mango Rice and Thai Bagoong Rice. 
The sisters attributed a large part of their success to Grab. Sixty (60) percent of their sales come from Grab while the remaining 40% are from their different channels, including dine-in, website orders and event packages. 
Apart from Grab deliveries, Thai Mango is also part of Grab Kitchen and Grab Signatures. The latter is the superapp's program that features exclusive partner merchants, while Grab Kitchen is its initiative to help MSMEs (micro, small and medium enterprises) with their operations by providing the facility where merchant partners can prepare their food. They only need to bring their manpower and ingredients. 
For app users, Grab Kitchen allows them to mix and match food items from different restaurants for just one delivery fee. 
Kim and Jashmine has moved to a new place somewhere in the south that has a bigger space for their stocks. They are also planning to close the year with two more stores in Bonifacio Global City and Eastwood Mall in Quezon City. 
RELATED: Raised by single mom, brothers left jobs to run Filipino heritage restaurants