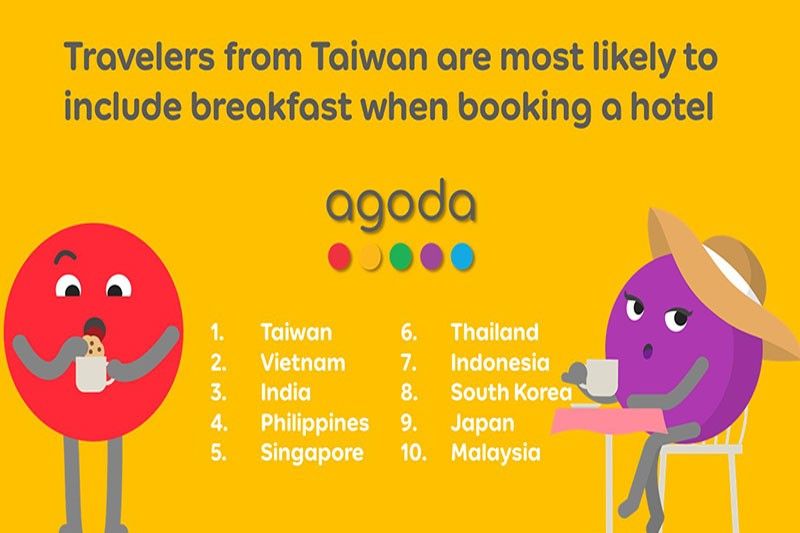 CAINTA, Philippines — To include or not to include — that is the question! To include or not to include breakfast when making a hotel booking, that is!
To some, including breakfast in a hotel booking is a must because breakfast is the most important meal of the day. Others, though, would rather skip breakfast when they travel so they feel light when moving from place to place during a tour. Yet others would rather wake up real early in the morning to take a walk around the hotel and check out local street food or normal breakfast fares in local eateries. This is why they do not have breakfast included in their hotel booking.
So, who includes breakfast and who does not? Oftentimes, it has to do with which country these tourists are coming from.
Agoda looked at the numbers from May to June of 2023 and ranked the preferences for 10 Asian markets. After making an analysis, the travel app revealed that over the past two months, travelers from the Philippines ranked fourth among Asian travelers most likely to include breakfast with their hotel accommodation. Emerging on top in terms of requiring breakfast with their hotel stay are travelers from Taiwan, with 46% of them making sure that breakfast is included in their hotel booking. In second place are Vietnamese travelers (43%), followed closely by Indian travelers (42%) in third, and the Philippines in fourth. Singapore rounds out the Top 5.
Ranking sixth to 10th are travelers from Thailand, Indonesia, South Korea, Japan, and Malaysia.
When comparing domestic with overseas travel, the app found that travelers on an international trip are more likely to opt for some comfort and peace of mind. Thirty-seven percent (37%) of international travelers selects the "breakfast included" option on the app, compared to 31% of those who stay within their country borders.
"There are lots of factors at play to determine the popularity of including breakfast when booking your accommodation," said Enric Casals, Regional Associate Vice-President Southeast Asia, Agoda. "It's often the flexibility to decide last-minute depending on your plans during the trip, but it's well worth noting that if you do plan to start the day with a meal, it's often most economical to include it during the booking."
Looking at specific destinations, the data revealed that the Philippines ranks third among destinations where breakfast is most likely to be selected by travelers, following Vietnam (#1) and Taiwan (#2).  There appears to be less appetite for the breakfast buffets in Japan (#7), Malaysia (#8), and Singapore (#9), but it is least popular in South Korea (#10), where only 1 in 10 travelers include the morning meal in their hotel reservations.
For those who don't want to miss out on breakfast, there is a "Breakfast included" filter on Agoda.com and in the app, to quickly find the best deals that will not only provide a good night's sleep, but also the best treat upon waking up.