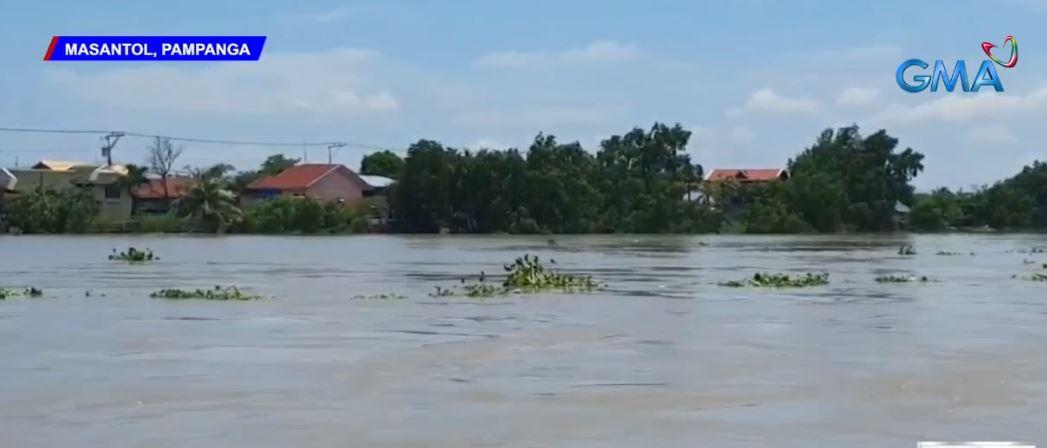 Eighty barangays in Pampanga are still flooded due to the effects of the Southwest Monsoon and Tropical Storm Dodong.
According to Ivan Mayrina's report on "24 Oras," a total of 67 families were evacuated to various temporary shelters in the province.
The rains the past few days have affected 39,536 families or 126,437 individuals in Pampanga.
In barangay Sta. Monica, over 20 families were evacuated and nine houses in were partially damaged.
The flood also affected the towns of Macabebe, Apalit, Sasmuan and Guagua.
Based on the PAGASA's Pampanga River Basin Flood Advisory on Tuesday, it is possible for some rivers to overflow in the towns and flood nearby areas.
Currently, only Candaba has remained with a flood warning which may be withdrawn at any time.
In Pasuquin, Ilocos Norte, reports said at least 20 nipa huts and one boat were destroyed due to the waves.
It also rained in some parts of Western Visayas.
Forty barangays in Iloilo were flooded, while in Buenavista, Guimaras, the ground softened, making the rocks fall on a house.
The two minors were not injured, but the area was cordoned off. The fourteen affected families were temporarily evacuated.
The Office of Civil Defense said the Southwest Monsoon enhanced by Tropical Storm Dodong affected 47,220 individuals or 13,929 families in Regions 1, 3, CALABARZON, MIMAROPA.
"We still have 37 evacuation centers catering to 452 families, o 1788 individuals," OCD spokesperson  Edgar Posadas said at a public briefing on Tuesday.—Sherylin Untalan/LDF, GMA Integrated News