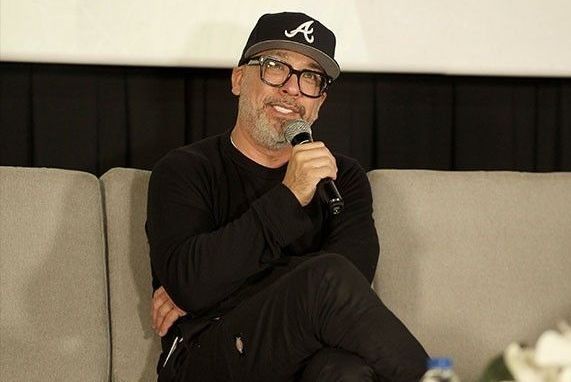 Jo Koy at the Manila presscon for his Hollywood starrer "Easter Sunday," a movie that tells the story of a Filipino family based on his real-life experiences. 
Universal Pictures / Released
MANILA, Philippines — The all-Filipino Broadway musical about Philippine history got a further boost as A-list Hollywood comedians Whoopi Goldberg and Jo Koy talked about "Here Lies Love" on "The View," an Emmy award-winning talk show aired on ABC Network.
Filipino-American Jo Koy, one of the co-producers of "Here Lies Love," appeared on the July 20, 2023 episode of the program where Whoopi also recalled her experience watching a preview of the Broadway musical. 
"I just saw 'Here Lies Love' on Tuesday night (July 18, 2023). Not only was I blown away by what they did with the theater, but I forgot a lot of the history and it's extraordinary," Whoopi said. 
"Here Lies Love" is an immersive disco musical with music and lyrics created by former Talking Heads musician David Byrne with music co-created by Fatboy Slim. 
WATCH: Jo Koy, Whoopi Goldberg stress the importance of remembering history
The 90-minute Broadway show tells the story of former First Lady Imelda Marcos and the 1986 People Power Revolution. It features a performance catwalk, satellite stages, 360-degree lighting and video screens. 
"Here Lies Love" stars an all-Filipino cast headed by Arielle Jacobs, Conrad Ricamora, Jose Llana and Lea Salonga.
Jo Koy, whose real name is Joseph Glenn Herbert Sr., spoke about the historical and personal significance of the musical. 
"I used to live in the Philippines during Marcos Sr.'s (time). My dad was in the military. It was the dictatorship," Jo Koy said, describing the People Power Revolution of 1986, or EDSA Revolution, which deposed Ferdinand Marcos Sr., as a "beautiful" part of Philippine history. 
"The people finally stepped up. They did it very nicely. It was peaceful," he added. 
Both Jo Koy and Whoopi pointed out that the 1986 EDSA Revolution is as much part of Philippine history as it is of the United States. Whoopi said that the musical is a reminder. 
"How the evolution of that family evolving into something horrific, I forgot. We forget our history…" she said. 
RELATED: Jo Koy joins Lea Salonga, H.E.R. as producers on Broadway's 'Here Lies Love'