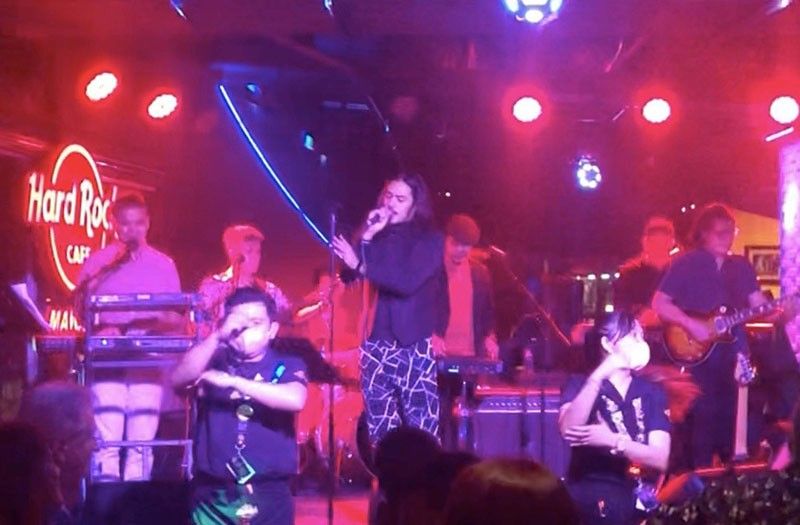 Someone once sang: "Hey, hey, my, my, rock 'n' roll can never die." Similarly, nothing seems capable of keeping down Hard Rock Café Philippines — not even a global pandemic — for too long.
We're back in the Glorietta 4 branch early one Thursday evening to sample the new additions to their menu and imbibe some truly thirst-quenching "Classy & Sassy" cocktails. And wouldn't you know it? By the time we get to the appetizers, the place is packed.
Current opening band InnerVoices are warming up with some covers — everything from Psychedelic Furs' (Ghost In You) to Starship (We Built This City) — and there's a definite dance-party vibe by the time we get to Footloose, when Hard Rock's wait staff are pulling people up from the crowd, getting them on their feet.
If anything shows the tenacity of Filipinos, it's Hard Rock. Thank God it's… er… Thursday!
Hard Rock Ph director for operations Brian Peck sits us down to tuck into their new menu items. One nice thing about being a Hard Rock in Southeast Asia is you get to borrow items from other regional menus — like the just-added Tom Yum soup from Hard Rock Café Bangkok (served in a big, steaming bowl with mussels, clams, shrimps, tomato, chili and cilantro), along with new Filipino items, like Gambas Al Ajillo (served with toasted bruschetta), Crispy Fried Squid (with marinara or vinaigrette sauce) and classic Sizzling Sisig, which is "moving like hotcakes," jokes Peck. "That is another strength in the Filipino market: we can eat anything: European, American, Asian."
We tuck into the Tokwa't Baboy (deep-fried tofu and pork belly) while Peck explains how Hard Rock bounced back from pandemic lockdown and continues to adapt to the times.
"In Makati, we totally didn't open during the pandemic, the LGU was very strict," he says. "By 2020, we weren't allowed to have large bands onstage, so we started doing duo acts — but the singers would have to wear facemasks and be separated by boxes onstage!"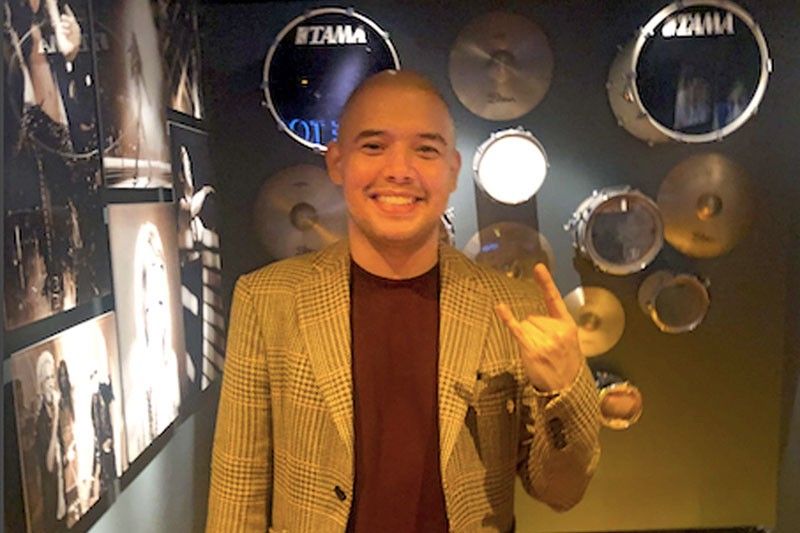 Hard Rock Ph director for operations Brian Peck offers a fitting salute.
During the gradual easing of lockdown, it was "like passing through the eye of a needle," he says. "We were eager to go back to entertainment, so we kept trying. But whenever the government issued another restriction, we would stop again."
Like Sisyphus continually pushing a rock (and roll) up a mountain, say.
Another advantage of being a Hard Rock in Southeast Asia: you can switch up the formula a bit.
"The only difference from other Hard Rocks worldwide is we don't stick to one type of music. In other places, particularly the US, they prefer heavy metal music, really hard rock. But in Manila, we cater to all types of entertainment and music genres."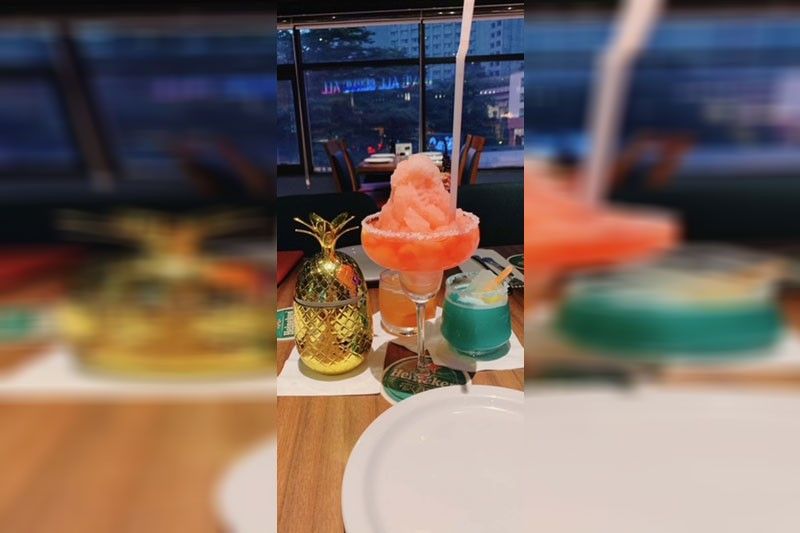 "Classy and Sassy Cocktails" include Tropical Breeze Daiquiri, Frose Peach Margarita, Piña Colada and Blood Orange Bourbon Sour.
So much so that Hard Rock Manila at S Maison might feature a band serving rocked-up versions of Blackpink, K-pop or Taylor Swift. Anything goes, really.
Tonight, after InnerVoices comes Bluegrass, "one of our pioneering classic rock bands since we opened." We ask Peck how he scouts for bands. "Before, bands would schedule here for audition, but sometimes I get the schedule for the clubs and personally go out and see how many people are lining up, see how they will perform live."
As InnerVoices launches into a spirited Rosanna by Toto, Therese sips the classic Frose Peach Margarita, a tower of whipped pink ice that looks like Barbie and Robert Oppenheimer got together to build an explosive cocktail; I'm enjoying the Blood Orange Bourbon Sour, followed by the Tropical Breeze Daiquiri, a blue beverage embedded with a pineapple popsicle. You can also sample their new Appletini, Piña Colada, Peach Basil Mule, Lavendar Haze, Apple Ginger Mojito, or Hibiscus Blackberry Spritz. (Or all of them, as we did.)
In addition to Hard Rock's classic Southern Fish Fillet (their version of fish 'n' chips), the Surf & Turf Burger (a classic patty topped with One Night in Bangkok Spicy Shrimp on coleslaw), the awesome Chicken Lollipops and the Aloha Sunshine Flatbread (topped with mozzarella, cheddar and parmesan, bacon, bell pepper and pineapple), there's a towering Messi Burger stack, named after the footballer. (Spoiler: It scooores!) We both loved the Twisted Mac, Chicken and Cheese and one of Therese's pescatarian picks was Seafood Pasta in Abalone Sauce.
Hard Rock Philippines (brought in by the Bistro Group) has also added Asian items like Beef Hofan (sliced beef, hofan noodles, garlic, ginger and bok choy) and Korean Spicy Wings, part of their Rockin' Rice Meals menu.
Age-wise, you can't really pigeonhole the Hard Rock crowd. In Manila, ages can range from "infants," according to Peck (families sometimes bring their kids, though not too close to the stage) to a 93-year-old Filipino regular ("He just wants to dance every night").
Tonight in Makati, the crowd includes music fans of all ages — 20s, 30s, 50s. Birthday greetings ring out from the stage as InnerVoices takes requests from the crowd on slips of paper and cellphones. There are plenty of expats, of course, and this one young girl who reminds us of Little Miss Sunshine, busting out some serious pop-and-lock moves near her table. The music is definitely doing its job.
And the wait staff as well, who manage to pull a few people in front of the stage during a rocked-up YMCA cover.
There are Gen Z Hard Rock fans as well, but "they like only a certain type of music." So they have a band called Circa on Fridays who only cover music from "the '90s to the present." In Manila, Circa holds a monthly theme night. "Tonight is Taylor Swift Tribute. They even did a Blackpink Night recently."
This is called adapting to changing times. "It isn't necessary to make it 'rock, rock, rock.' As long as people can still recognize the song, the bands can change it around."
Having said that, InnerVoices concludes its first set with a killer Queen medley that's about as close as it gets to the originals. And you can't say Queen doesn't rock.
At the end of the meal, we're served Mix Mix, the club's own version of halo-halo, and — wouldn't you know it? — Hard Rock manages to make even this staple rock.
* * *
Hard Rock Café is open 11 a.m. to midnight, every night.