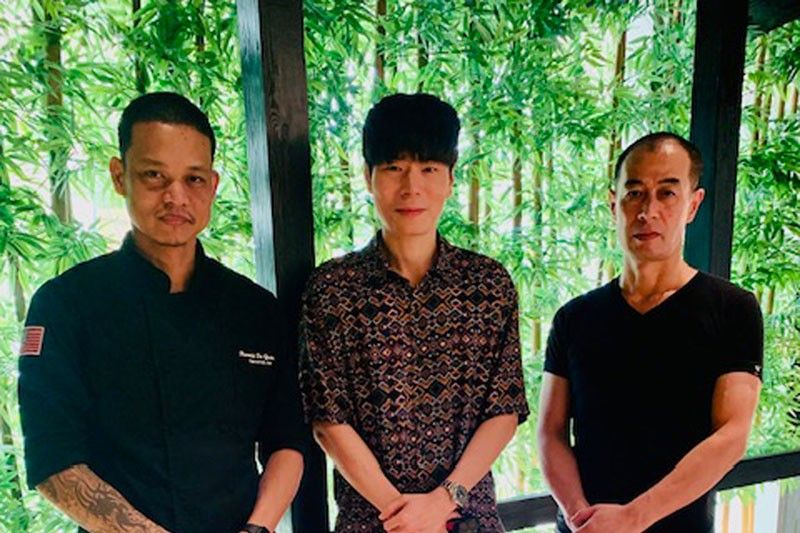 Restaurateur Anthony "Tony" Ng knows a thing or two about value for money.  For years his business, North Star Meat Merchants, has been supplying fine foods to SM Supermarkets, so he's an authority on ingredient quality and pricing.
Since, as a food purveyor, Ng has first dibs on all kinds of amazing local and imported produce, it made sense that he would open his own restaurants. And, being an "SM boy," as he calls himself, "to price high for me is unnatural; it always has to be value for money and for our consumers."
That means you as a diner will be getting high-quality imported ingredients at the most reasonable prices at his two restaurants, Fukui Omakase and William Watson Steak Room, located side by side in a building along Katipunan in Quezon City.
We tried both to get the lowdown on these two new restaurants.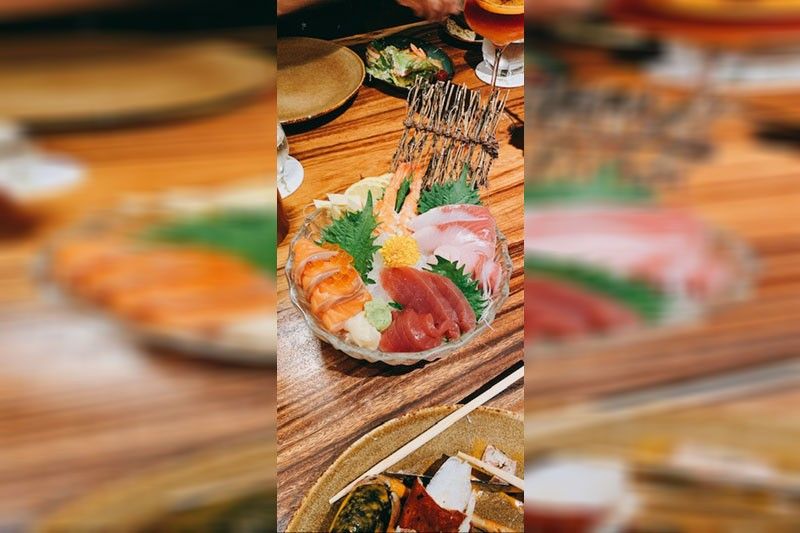 Sashimi heaven: The Bara Chirashi bowl
Making omakase accessible to a wider market
Entering Fukui Omakase is a Zen experience, since you pass a bamboo-lined bridge and Buddha statue before entering the 40-seat dining space.
Along one wall is a series of traditional-looking Japanese paintings that was actually done by a Filipino artist: "That's hand-painted mural by an Ilonggo fellow my mom discovered," says Ng. "He's a struggling artist, so we commissioned him to do it."
In the heart of the space is the omakase bar. 
"The front end, which is the cold (kitchen), is progressive," notes Ng. "Here we do the omakase and creative, modern, makis. Behind the scenes of the hot kitchen, chef Ken, his specialization is doing traditional Japanese meals. He's worked at a lot of restaurants in Japan."
Usually, when you hear the word "omakase" you think "expensive" and "for special occasions only," but Ng is hoping to change that with Fukui.
"Because it's a niche market for omakase here in the Philippines, you can count on one hand (restaurants that do) traditional omakase," says Fukui's executive chef Ronnie De Guzman. "We want to cater to the rest of the market where they can experience it at an affordable price. If you go to BGC, you're going to spend about P8,000 to P10,000 for omakase."
"I tell him, don't price above P5,000," says Ng. "We want it to be such that people say, 'Oh, yeah, I want omakase.'  It becomes very natural and casual because it doesn't break the bank."
Fukui is so new that they're still curating the omakase menu depending on the seasonal fish that comes in, so we try dishes from the regular menu. If you love sashimi like we do, order the Bara Chirashi (P480), a bowl of Hamachi, tuna and salmon sashimi (topped with salmon roe) with ebi shrimp.  Eating this we felt like we were back in Japan.
Also try their specialty, Hokkaido soup, a clear soup with an uni (sea urchin) base and salmon, scallops, oysters, leeks and mushrooms (P550).
Fukui's maki rolls are targeted to a younger crowd and those who enjoy progressive Japanese food. We had the Flaming Maki (P590), a large salmon-cucumber-kani roll blanketed by a cheese sauce and flambéed, so it's a highly Instagrammable dish. "It becomes a cheese fondue," notes Tony. "They will light it up to melt the cheese, mayonnaise, and everything that makes the whole maki a bit crunchy."
Chef Ronnie was nice enough to make us an off-the-menu Battera sushi: "It's a rice-mold square. I put some small salmon unagi and Sakura Denbu, which is like a pink, sweet fish flake, and tamago in the middle." These were exquisite mouthfuls we'd never had before and definitely savored.
For dessert you have to try Fukui's homemade ice creams. They offer flavors like wasabi, matcha and strawberry-mint, but we had red miso, which tastes for all the world like salted-caramel ice cream. With layers of butterscotch pecan and a baked tuile for crunch, it's terrific.
We also want to go back for Fukui's teishoku, executive set lunches where, for an average price of P850, you get seven courses — for example a katsu curry with Japanese rice, mixed tiger-prawn tempura, three pieces of sashimi and assorted side dishes.
"I want to build our name on quality and reasonable prices," Tony stresses.
Sounds like a great deal to us.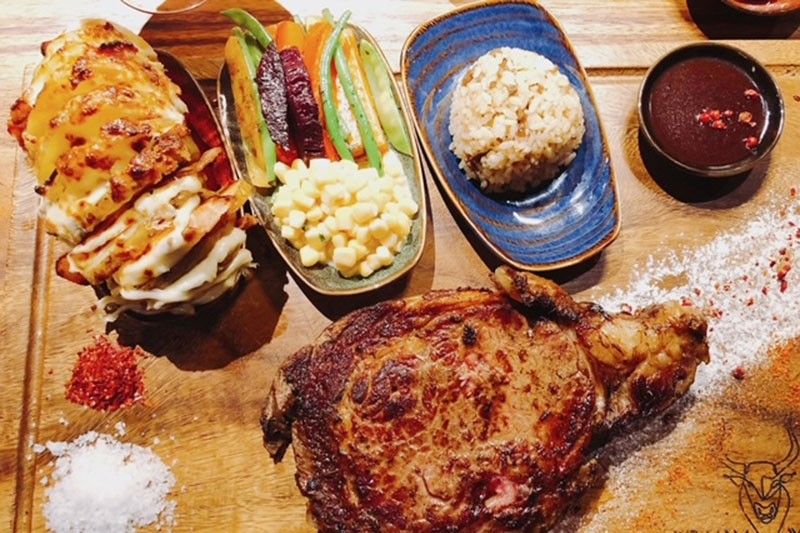 The 350-gram Ribeye Steak is brought to the table on a slab of wood, grilled and crispy, flanked by a decadent jacket potato stuffed with bacon and melted cheddar.
 'It's all about the angus beef'
You can enter both Fukui and William Watson Steak Room from a downstairs parking lot elevator connecting the two restaurants at the back. This is intentional: "Basically, it's like providing, side by side, two different worlds of cuisine together, from east to west."
Stepping inside, you're immediately entering a completely different vibe. What's surprising is how much William Watson resembles a classic Chicago steakhouse: all moody lighting and elegant wood finishes. The main dining tables are covered in Italian marble, while a special 14-guest private dining room features a solid narra table. The serving platters are wood as well, to keep the steak warm as long as possible. A tempting wall display of bottles — Blancher Cavas from Spain, Macallan 18 Year Whisky — means this is for special dining occasions.
All of William Watson steaks are USDA-approved Angus: "It's all about the beef here," Ng says.
With his supply contacts, Ng can offer more affordable prime steaks than Makati and BGC. "Our Tomahawk Steak, for example — which is for sharing — at a high-end steakhouse in Makati it might be P18,000. Ours is P8,800. And I know it's US prime, because I bring it in."
Both Fukui and William Watson (the name comes from two Irish herders who pioneered Angus beef) have an eye on an underserved clientele surrounding Katipunan: "Basically, we're trying to bring the residents of Quezon City, Loyola Heights, White Plains, Corinthians and Greenmeadows a more convenient alternative. We're just bringing it near to them." The prices are not pretentious. And it's the kind of hidden treasure you might not expect on Katipunan Ave. "I wanted a place where you can just have fun with the family, and not be too conscious of what you're spending."
As we listen to how Ng came to bring a prime steakhouse to Katipunan, chef Godofedo Villadelgado prepares a tableside Caesar Salad, adding a kick of Tabasco sauce, while offering a bit of history about its American origins.
Next comes the Angus Beef Tartare, surprisingly deep in flavor for an appetizer: it's grass-fed Black Angus swirled with Pommery Dijon and curly parsley, topped with a organic egg yolk: a rich, heady experience.
Still on the subject of beef, the 350-gram Ribeye Steak is brought to the table on a slab of wood, grilled and crispy, flanked by a decadent jacket potato stuffed with bacon and melted cheddar in every slice; special steak rice made with trimmings and rendered fat of Angus; a Madeira truffle sauce; plus sautéed steamed vegetables topped with sweet creamy corn. It stands up well to most higher-end steak dishes in town.  (If you want to go a bit higher, there's the Porterhouse: close to 500 grams of char-grilled US premium grade Black Angus.)
Pescatarians like Therese can order the Grilled Salmon with wasabi mashed potatoes on a bed of vegetables, which she says is the pesca version of a hearty steak.
Also not to be missed is the Cheese Steak Pizza, a special delight of slow-roasted Angus beef, stringy mozzarella, Welsh onion compote and Emmental cheese. Like deep-dish heaven. (Ng says "the flavor and toasting of crust is much better" because of their small brick pizza oven.)
Throughout, we sampled bespoke cocktails (Scott had the Bourbon and Blood) and mocktails (Therese had the Strawberry Mimosa), and capped things off with two desserts we couldn't resist: the aforementioned Red Miso ice cream and Strawberry Panna Cotta, which layers strawberry compote, panna cotta and cream in a tall glass. We scooped down to get every layer in a spoon for that perfect bite. It was a refreshing way to end an extremely hearty meal.
Ng is a young dad who spent much of the lockdown designing and constructing these side-by-side restaurants in an unlikely spot. Surprisingly, he doesn't really like to travel and explore the world's cuisine — especially since he can bring the ingredients and dishes closer to home. "I love to eat. It's my only kapritso. I don't have any vices; all I do now is work and go home."
And now, two palate-pleasing restaurants are very close to home for those near Katipunan.
* * *
Fukui Omakase and William Watson Steak Room are located at the JSO Building, 1800 Katipunan Avenue (near Blue Ridge A), Quezon City.  Contact 0917-170-9266 for reservations and follow them on Facebook and Instagram for more details.