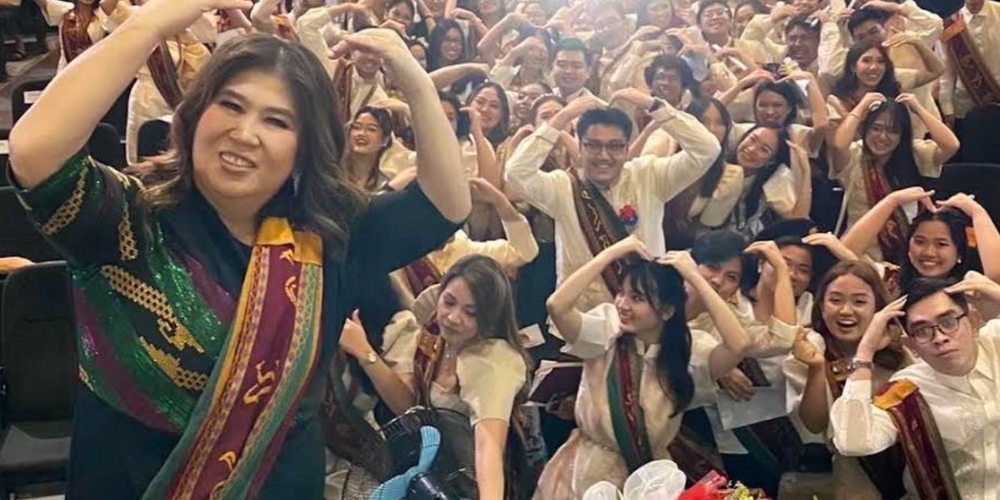 Today is the graduation ceremony of the UP College of Mass Communication graduation and none other than Jessica Soho gave the speech.
Her speech is as entertaining and relevant as it is inspiring and thought-provoking. There were a number of times when we had to stop and think about what she said before we giggle at her supreme relevance toward the graduating set.
Below, we run down the 9 most important questions and points from what the award-winning Kapuso journalist said at graduation this afternoon.
1. The first step in solving a problem is to talk about it… poverty stares at us in the face, every single day. In our streets, in our communities and even in our homes — with our kasambahays and their sad stories of poverty passed down from one generation to the other — unless someone manages to work abroad and breaks the cycle.
2. Nasanay na nga lang ba tayo at manhid na or ika nga ng mga bata ngayon, adjusted na adjusted na? Na sa mga stoplight at kalye, may kumakatok sa ating mga sasakyan at nanghihingi ng konting barha?
How do we move the needle  para dumami ang mga makalalagpas sa poverty line?
Kung hindi mayo, sino? Kung hindi ngayon, kelan?
3. Think of all that energy you put in posting, surfing through your accounts and checking what your friends are doing. The power in your fingertips to make things go trending and viral. And make the world stop, watch, and listen.
The wit and the spunk that go to creating all those memes — ang tataba ng mga utak niyo!!! Imagine if all that — ibuhos niyo rin in doing good and in changing lives and things for the better.
4. Do we know our viewers enough, or the majority of our population? To begin with, I really find this question disturbing and bewildering — and it begs the bigger and more important question: They're the greater majority and yet…do we know them? What does this say about our sense of community and country?
5. Maybe it's true what they've been saying all along. We are still tribal. We stick to our kind or crowd and we don't reach out far enough to those who are not. We don't step out of our comfort zones and remain in our safe little silos, and engage only with those in our own echo chambers or at least with those we can stand or like.
How do we even begin to propose to change society? Paano mababago ang lipunan at matutulungan ang higit na nakararami…kung ni hindi sila kinakausap o pinapakinggan? Ano ba ang kanilang mga hinaing, mga pangarap sa buhay? Do you or we even care to know?
7. To our young graduates who will soon join our workforce, know your audience, know our people. Two words to remember by in life at work or at play: Get real.
8. To our dear graduates, please do good and be good. Never stop caring. Try not to lose your idealism. Your UP education has to account for something- be an advocate or an instrument for change!
9. Take it from someone whose student number begins with 81– wag lang student number niyo ang kabisadong-kabisado niyo. More importantly the codes of the university- honor and excellence and in that order, dapat!
10. In all that you do, be honest. Your integrity is non-negotiable. Life is hard but it is still beautiful. You survived the pandemic, you can survive anything!
Never EVER give up- on yourself, on your dreams and on our people!