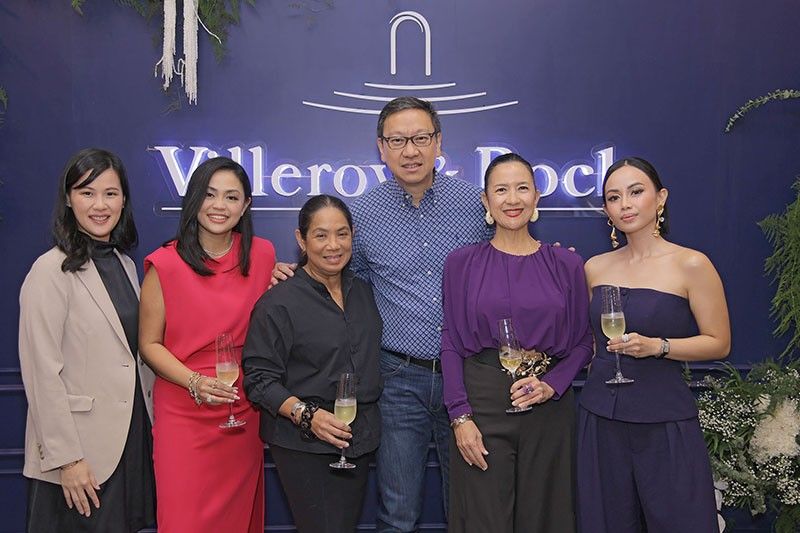 Emerson Yao, managing director of Lucerne Group of Companies, and (from left) Casa Euro brand manager May Yao-Que, Cyndi Fernandez-Beltran, chef Margarita Forés, Mia Borromeo and Geewel Fuster at the launch of Villeroy & Boch in Greenbelt 5: Emerson says, "For 275 years, Villeroy & Boch has been producing beautiful tableware. And while the brand is just starting to have a presence in Asia, it is very popular in markets like Europe and the US. The brand has history and a strong heritage."
Oh, how the tables have turned, indeed. Turned into something straight out of a decorator's dream.
If this were a Luis Buñuel movie and you were asked to attend a dinner where you could check in any time you like but you could never leave, maybe you would consider the invite if the tables were set by chef Margarita Forés, interior designer Cyndi Fernandez-Beltran, architect Geewel Fuster, and lifestyle curator Mia Borromeo.
And if the dining tables were festooned with Villeroy & Boch tableware, the evening could turn surreal and yet you would still marvel at how well-curated the entire dining experience was.
Lucerne Casa Euro officially launched Villeroy & Boch recently at Greenbelt 5 by inviting the four individuals to share their talents through their creative tablescape presentations, and with their friends attending a unique dinner experience hosted by the dinnerware and lifestyle brand.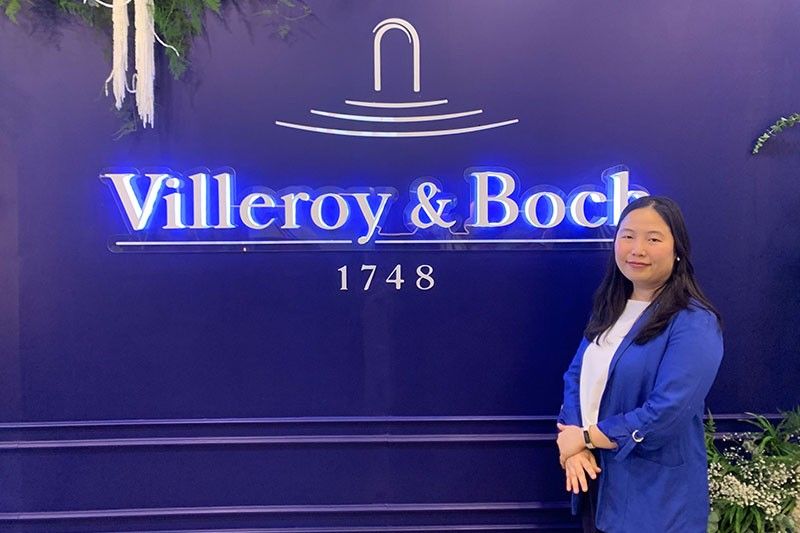 Arusa Shaishana, Villeroy & Boch marketing manager
Chef Margarita Forés cooked up a garden-in-the-metropolis setting by using pieces from the brand's MetroChic and Rose Garden collections. MetroChic items are characterized by having either a purist white look or geometric patterns in expressive black and gold; items from the Rose Garden collection can be described as "vintage with pink flowers."
Cyndi Fernandez-Beltran designed a space focused on the Old Luxembourg collection. Being the most OG of all the collections, Old Luxembourg was inspired by one of the original designs developed by the Boch brothers in 1767. The iconic "brindille" pattern features a quintessential deep cobalt blue that has been the shade of choice for porcelain decor for over a thousand years.
Geewel Fuster planned a setting centered on the Manufacture Rock collection. The pieces have this edgy, artisanal aesthetic with their special glaze creating a matte appearance inspired by the natural stone texture of slate.
Mia Borromeo styled her table with selections from the Avarua collection, an homage to navigator and explorer James Cook. The tropical look of the collection is enhanced by fine gold lines that bring forth a fantastic, three-dimensional effect. The pieces feature botanical motifs and soft colors.
Each of them brought touches of home to their respective settings: classical statuettes in one, gold onion décor in another.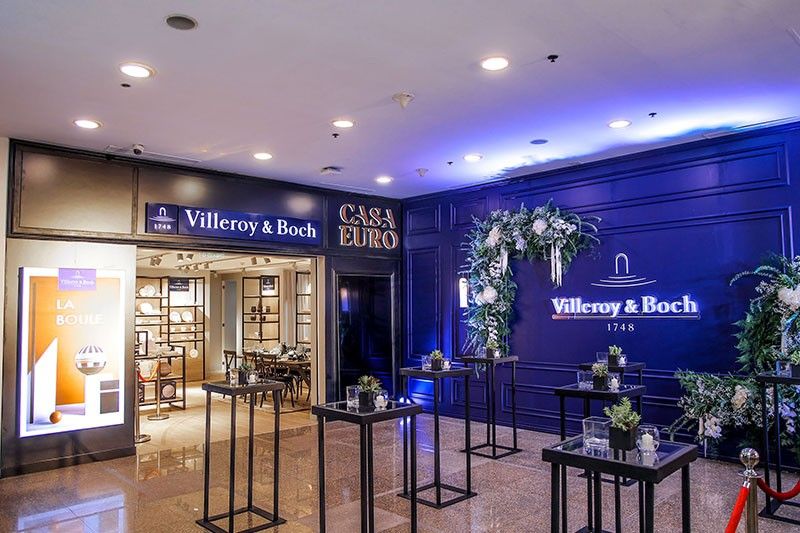 The Villeroy & Boch flagship store at Greenbelt 5
"We enjoyed collaborating with the tablescape artists," says Lucerne managing director Emerson Yao. "We saw firsthand how they complemented our dinnerware with accessories and centerpieces. Our plates highlighted the food nicely and just made the overall dining experience very special."
Villeroy & Boch, founded in 1748, is a lifestyle brand that values exceptional craftsmanship and innovative design. With divisions in Bathroom & Wellness, as well as Dining & Lifestyle, Villeroy & Boch offers a comprehensive range of products for domestic and commercial use, from luxurious tableware to elegant bathroom solutions.
Arusa Shaishana, Villeroy & Boch marketing manager, personally likes the pieces from the Manufacture Rock collection. For her it simply rocks. "They have this minimalist look, but at the same time, the patterns are detailed. And they are so easy to apply in any contemporary (dining) atmosphere."
She is confident that the brand will do well in the Philippines. "We have partnered with the Lucerne Group, which is well-experienced in premium consumer products. The assortment of Villeroy & Boch items here (in Casa Euro) will be the answer to the needs of the customers, whether they go for the contemporary or the classic look."
What is one word to describe her brand?
"Can I have two? (laughs)," Shaishana answers. "Timeless elegance."
* * *
Villeroy & Boch is distributed in the Philippines by Lucerne. For information and updates, follow @villeroyandbochph on social media. Flagship stores are at Greenbelt 5 and Mitsukoshi Mall.