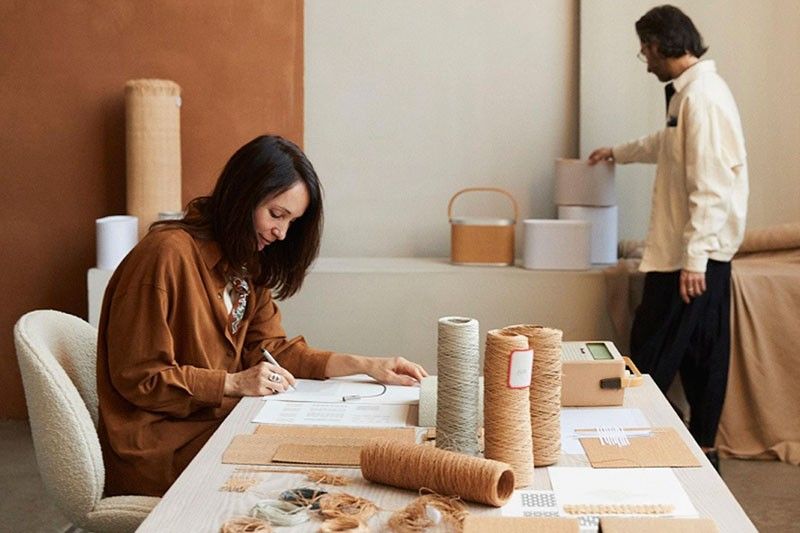 Bang & Olufsen launches the Beosound A5 speaker at The Curator Coffee & Cocktails.
One thing we know the Danish do well is furniture design. But almost as integral to comfortable living is sound design.
That's where Bang & Olufsen comes in.
At a recent midday coffee-and-sound event held at The Curator Coffee & Cocktails on C Palanca, Makati, Denmark's luxury audio brand launched its latest portable speaker, the Beosound A5. Media were led to the back dining area, where we spotted a sleek-looking object on the table. Something very 2001 Monolith about it: Is it an ornament? A fancy luxury bag? The black object with a handle on top, set next to an array of coffee shots, caught our attention.
This, we quickly learned, is the new Beosound A5. A collaboration with Danish-Italian design duo GamFratesi. It's available in two colorways (Dark Oak and Nordic Weave). Both finishes can sit beautifully inside a home or outside in nature, presenting the best of Scandinavian design excellence.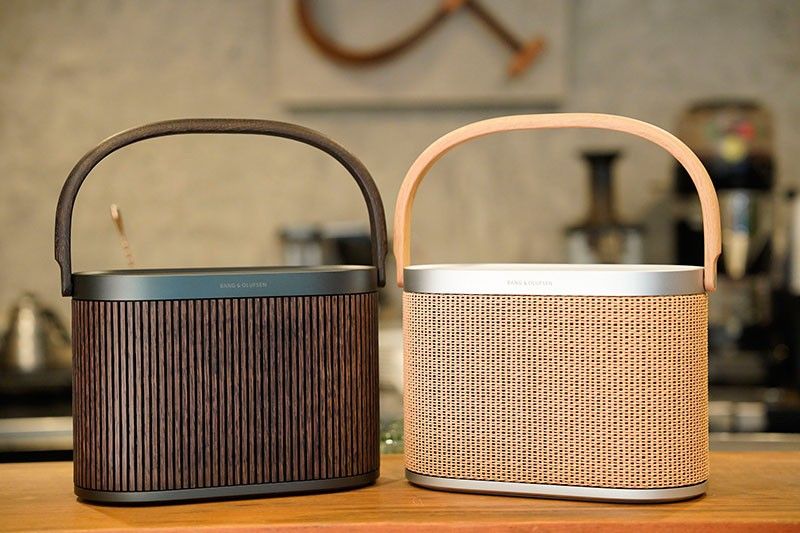 The Bang & Olufsen A5 portable speakers come in two models: Dark Oak and Nordic Weave.
Think of the Beosound A5 as the meeting point between portable and home audio. The solid oak handle is handy for carrying anywhere, and with its IP65 water and dust-proof rating, Beosound A5 can also be taken practically anywhere. It offers 12 hours of playtime and — surprise! — the flat surface below the handle is a wireless phone charger. Operate the A5 using the sleek, almost-hidden buttons, or remotely with the Bang & Olufsen App.
GamFratesi studio, founded in 2006 by Danish architect Stine Gam and Italian architect Enrico Fratesi, drew on classic Danish furniture and craft tradition as well as the classic Italian conceptual approach — so a marriage of north and south. The soft organic curves and natural materials of Beosound A5 reference the curved edges and handle from Beolit 607 launched in 1961. The wooden teak finish of the Beolit 800 and Beolit 1000, originally designed by Jacob Jensen between the late '60s and early '70s, was also influential.
Combining natural aluminum with a woven-paper fiber front and incorporating a light oak handle. Picture the Nordic Weave — partly inspired by Panama hats — playing your favorite jams at a party or beach for "a feeling of laid-back Scandinavian summers." The black anthracite aluminum version with a dark oak wood speaker cover meanwhile "evokes the aesthetic of winter woodlands."
As B&O brand manager Vince Miclat noted, every design by Bang & Olufsen focuses on design, craftsmanship and — crucially — authentic sound. "The designers wanted to capture the actual sound of musicians playing in the room."
In a similar vein, the Beosound A5 uses real wood, not imitation materials, because it's more sustainable and will last much longer. The modular design means the A5 is easy to service for a lifetime.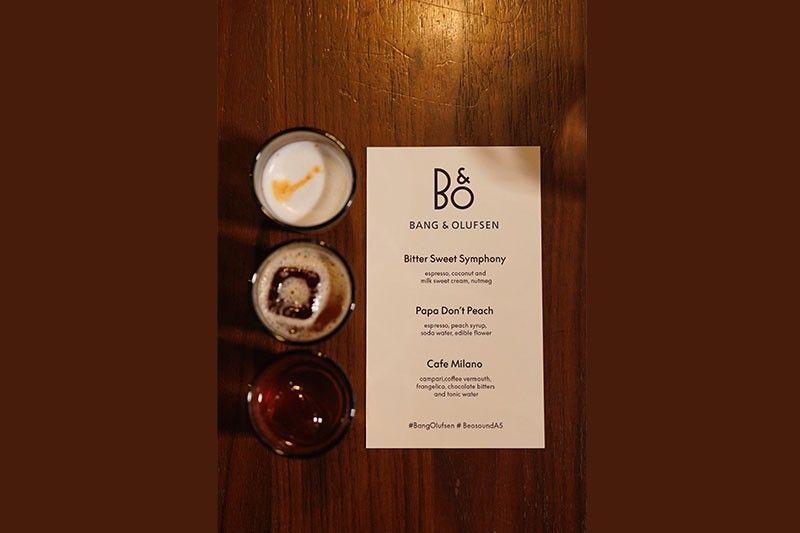 Curating coffee and sound: Sampling music-inspired coffee shots at The Curator Coffee & Cocktails while listening to tracks on the Beosound A5
Thanks to Bang & Olufsen's Mozart software, the Beosound A5 can evolve with new technologies, and even respond to your room's dynamics to adjust sound.
(You can also choose between a 360-degree room-filling sound, or a more private, unidirectional setting.) The Mozart module connects seamlessly with your home stereo or, as was demonstrated with the track Left and Right by Charlie Puth, allowing two Beosound A5s to connect in a stereo setup, offering wide separation of discrete sound. (Wouldn't mind hearing Led Zep's wide-panning Whole Lotta Love on this system.)
Furthermore, a single A5 speaker is able to generate 101dB maximum SPL (measured at 1 meter), which is impressive for a battery-powered speaker. It has advanced sound features such as Active Room Compensation, Adaptive Bass Linearization, Fluid Sweet Spot (coming with a software update) and customizable sound EQ (with multiple presets available through the Bang & Olufsen app).
What this means is that sound remains crisp, surrounding, natural — whether it's gentle acoustic guitar or the heavy metal chug of Metallica's Enter Sandman.
The Curator Coffee & Cocktails co-founder Jericson Co talked about the synthesis of music and coffee in coming up with special coffee shots for the launch. "The inspiration for our menu today is, if we could have a drink with The Verve or Madonna, what would it be?" Thus we sampled Bitter Sweet Symphony, a nod to '90s band The Verve, with espresso, coconut, milk sweet cream and nutmeg (great on ice); Papa Don't Peach, a nod to Madonna with espresso, peach syrup, soda water and edible flower (very refreshing); and Café Milano with Campari, coffee vermouth, frangelico, chocolate bitters and tonic water (a more complex, moody shot to go with the math rock band Toe).
"A big part of what we do at The Curator is pick the music to fit the vibe or ambiance of an event. It actually sets the mood," says Co. "So we do give a lot of leeway to our team to set the mood of sound they want for the day." With its attention to sound curation and coffee creation, it's no wonder The Curator is ranked No. 34 in Asia's 50 Best Bars for 2023.
Ambiance. Environment. Sound. Fitting that Bang & Olufsen chose this space to launch their best-curated portable speakers yet.
* * *
Visit @bangolufsen on Facebook and Instagram, Twitter, YouTube using the hashtag #BeosoundA5.