Homemade Apple Cinnamon Applesauce is easy to make and you only need a handful of ingredients. Better than store bought!
Have you ever thought about making your own applesauce? Maybe you have thought about it but thought it would be too hard to make or it is just much more convenient to buy.  Well I am here to tell you that Homemade Cinnamon Applesauce is super easy to make, only requires a few ingredients that you probably already have in your pantry and the flavor is SO MUCH better than any sauce on the store shelves.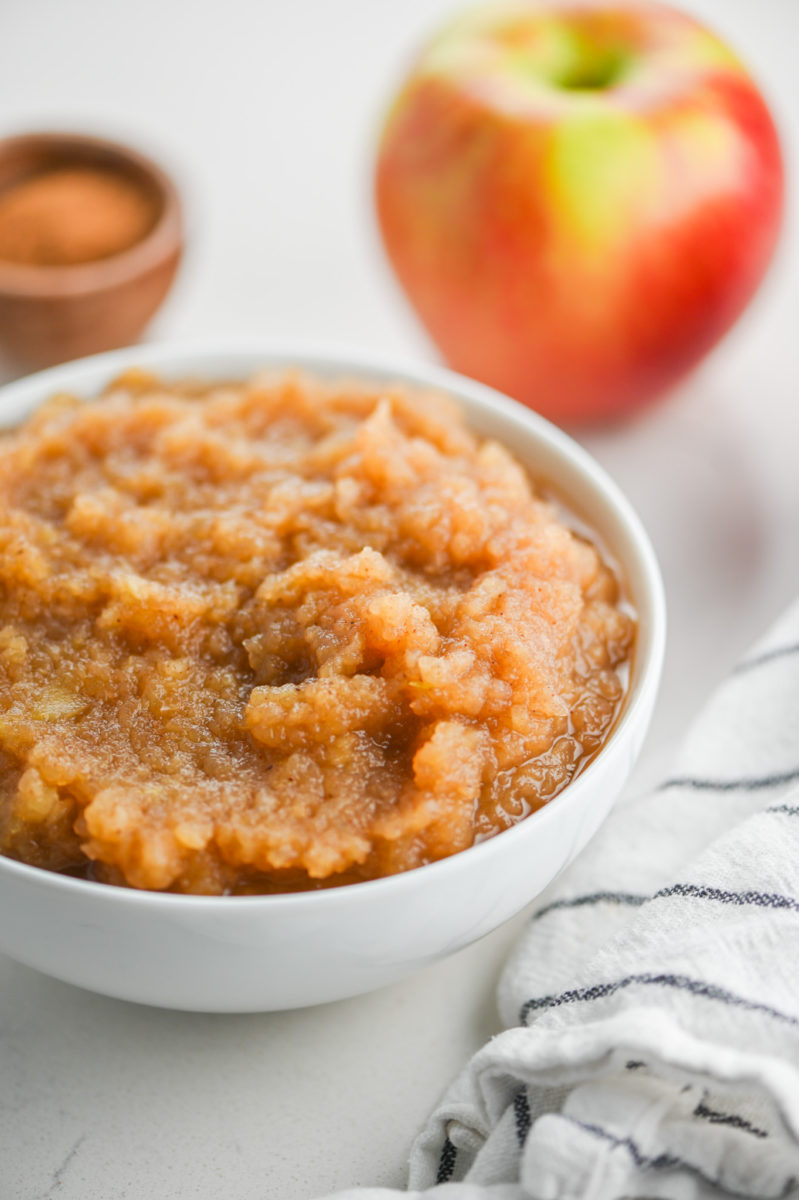 One bite of this applesauce and you're never going to want to buy it again. And let's not even talk about how amazing your house will smell as this is simmering on your stove. 
Let's talk about what you'll need to make it.
Homemade Cinnamon Applesauce Ingredients: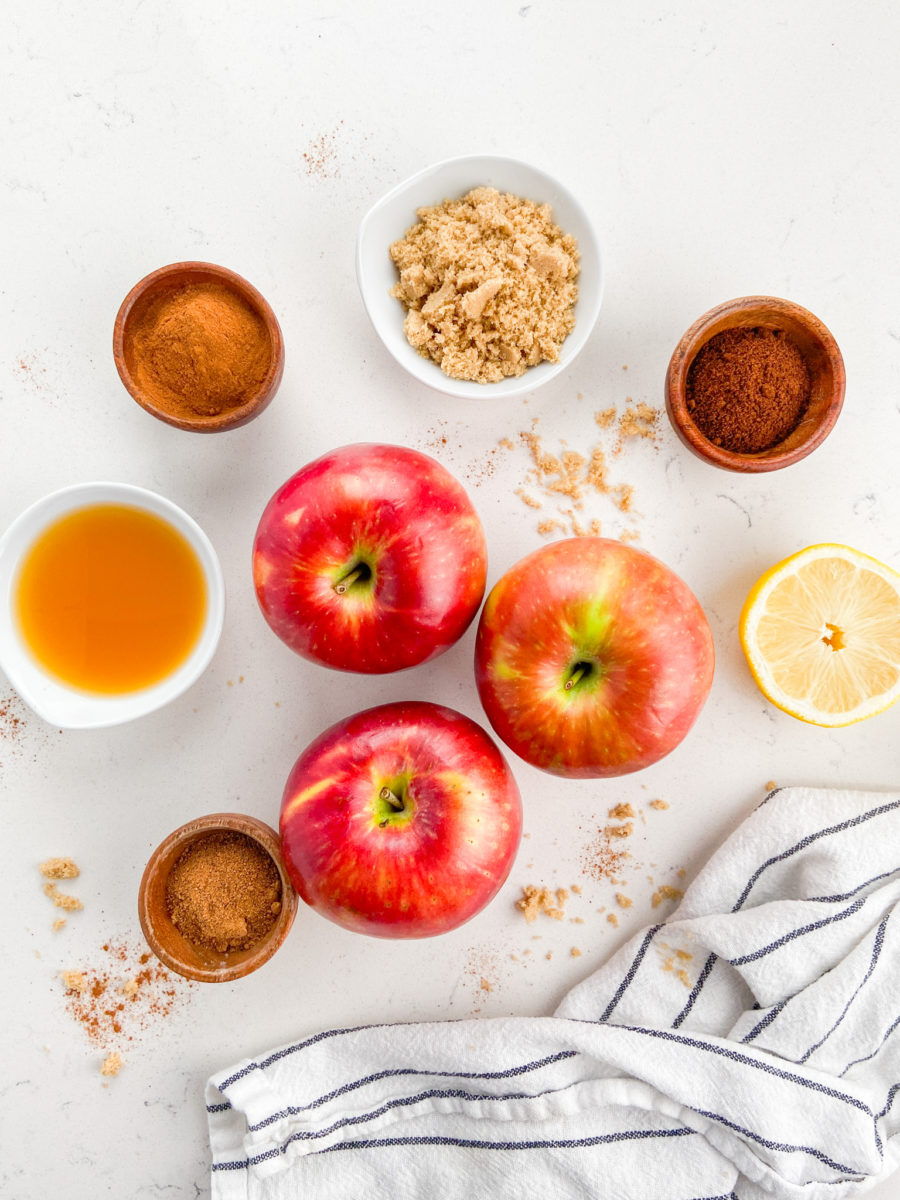 APPLES: You can use whatever variety of apple that you like the most. You can even use a combination of apple varieties. I used both Honey Crisp and Granny Smith. Golden Delicious, Fuji and McIntosh are also great options for applesauce. 
APPLE CIDER: Some applesauce recipes call for water, but I like to add apple cider to add even more sweet apple flavor. 
BROWN SUGAR: Will help the apples break down in the sauce and add sweetness. 
CINNAMON: Adds warmth. 
NUTMEG: Adds a nutty, earthy flavor. 
CLOVES: Adds a strong, pungent flavor. A little goes a long way so you won't need much! 
LEMON JUICE: Adds a bit of acidity.  
Step by Step Photos and Instructions: 
Making your own applesauce is so easy you guys! It is as simple as putting all of the ingredients together in a pot and simmer.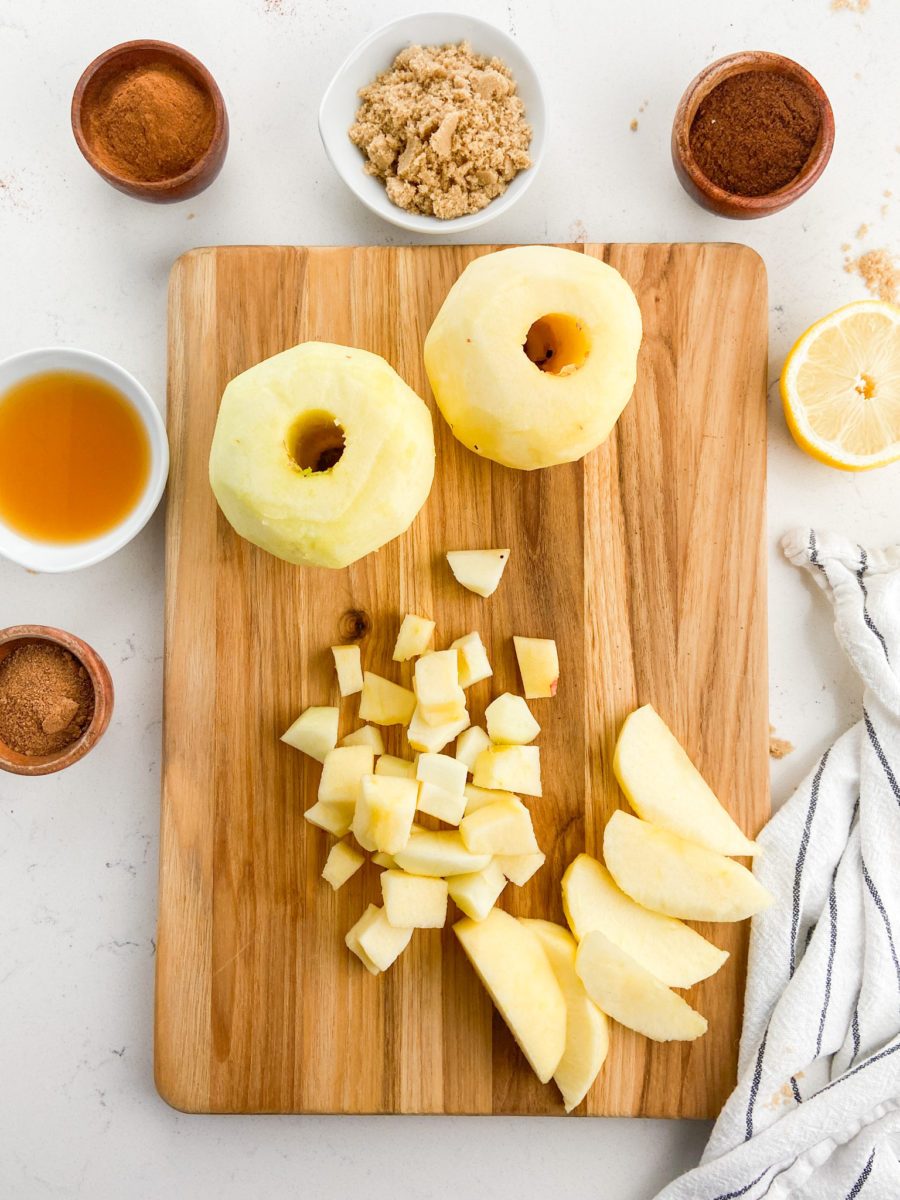 STEP #1: Peel, core and dice the apples. 
STEP #2: Place all of the ingredients together in a small saucepan. Simmer over low heat until the apples start to cook down and soften. This will take about 30 – 35 minutes. 
STEP #3: Depending on your preferences, you can make a chunky or smooth applesauce. To make a chunky sauce, use a masher to mash the apples together. To make a smoother sauce, carefully add mixture to a food processor (you may need to do this part in batches depending on the size of your food processor) and process until smooth. 
Storage and Leftovers: 
Store homemade applesauce in the refrigerator and use within 4 – 7 days. 
Homemade Cinnamon Applesauce is great on its own, served alongside pork chops, on top of pancakes or vanilla ice cream. 
Recipe FAQ:
How long does homemade applesauce last?
Homemade applesauce doesn't have all the preservatives that store-bought applesauce has so it won't last as long. If stored in an airtight container in the refrigerator, this should last 4 – 7 days.
Do you need to peel apples for applesauce?
I prefer to peel apples for applesauce because the texture is better, especially if you use apples with tougher skin like granny smith or red delicious.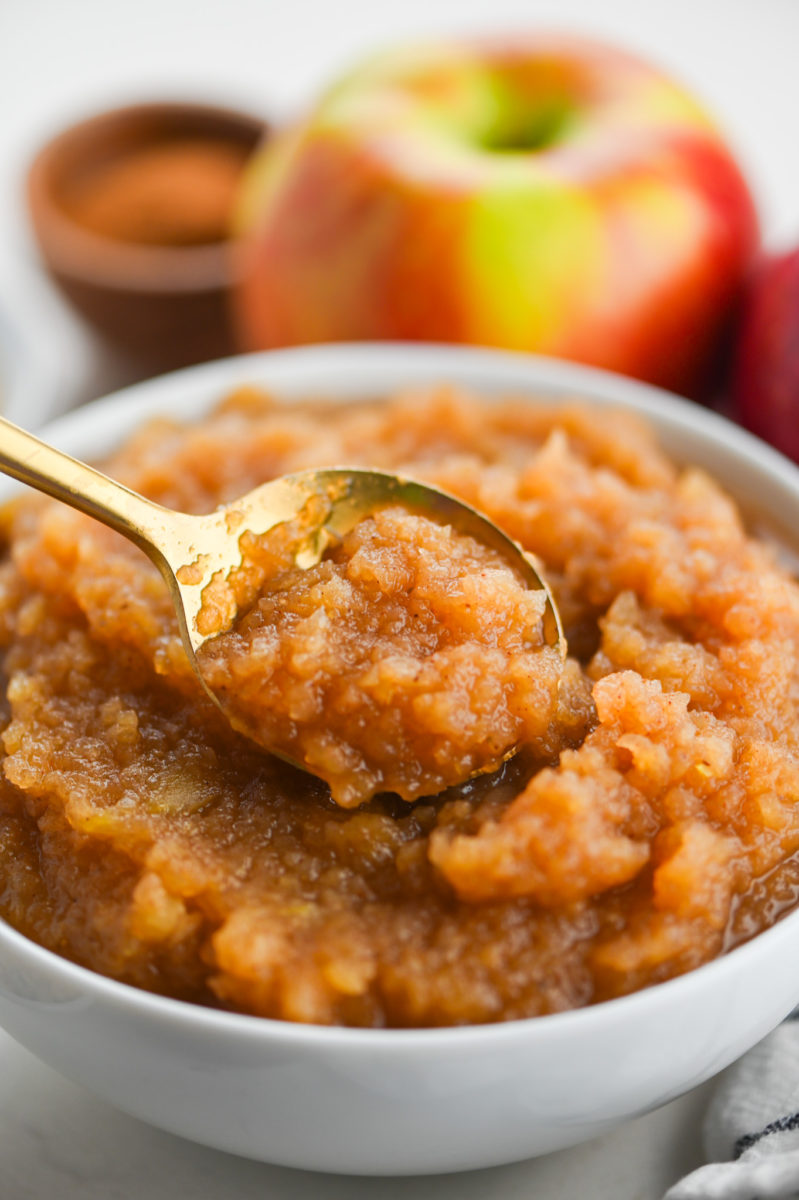 Looking for more apple recipes? Try these: 
Baked Apples are an easy, yet gorgeous, dessert. 
Apples and Gorgonzola combine to make a delicious, flavorful salad. 
Easy Apple Crisp is one of my absolute favorite fall desserts. It's perfect with vanilla ice cream! 
Note: This post was originally published in 2010. Updated in 2023 with new photos, a slightly modified recipe and nutrition information.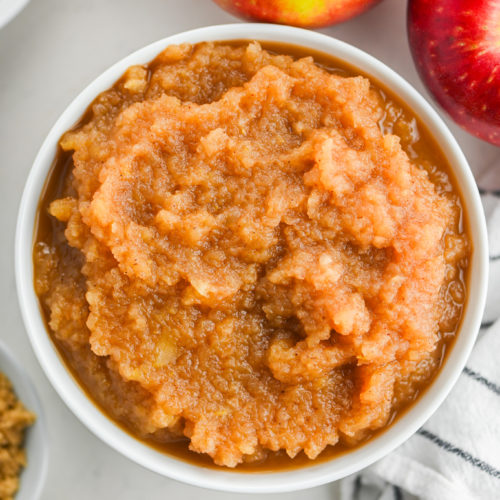 Homemade Cinnamon Applesauce
Homemade cinnamon applesauce with apples, cinnamon, brown sugar, nutmeg and cloves is easy to make and better than store bought!
Course Side Dishes
Cuisine American
Keyword apple sauce, apples, fall, sauce
Prep Time 15 minutes
Cook Time 35 minutes
Total Time 50 minutes
Servings 6 Servings
Calories 164kcal
Ingredients:
3

pounds

apples

cored, peeled and diced (about 6 cups diced apples)

1/2

cup

apple cider

1/4

cup

light brown sugar

2

tablespoons

lemon juice

1

teaspoon

cinnamon

1/4

teaspoon

ground cloves

1/4

teaspoon

nutmeg

1/8

teaspoon

cloves
Combine all ingredients together in a small pot. Cook over medium heat, stirring occasionally for 30 – 35 minutes or until apples are soft.

For chunky applesauce use a potato masher to mash apple mixture. For a smoother applesauce use an immersion blender and blend until smooth.

Serve warm or cold.
Nutrition information for estimation purposes only. 
Calories: 164kcal | Carbohydrates: 43g | Protein: 1g | Fat: 1g | Saturated Fat: 1g | Polyunsaturated Fat: 1g | Monounsaturated Fat: 1g | Sodium: 6mg | Potassium: 283mg | Fiber: 6g | Sugar: 35g | Vitamin A: 124IU | Vitamin C: 13mg | Calcium: 27mg | Iron: 1mg
The post Homemade Cinnamon Applesauce appeared first on Life's Ambrosia.